The Moleanos Fine is a beige limestone from Portugal, with a considerable demand from several international markets, such as multiple Asian channels. As a former Moleanos stone, it accepts a huge number of finishings. However, only a few are commonly used and requested by professionals.
Mainly characterized by its extremely uniform background and thin grain, the Moleanos Fine is a high commercial beige limestone with a high interior usage. This preference can be explained by the given refinement and delicacy of the stone, which presents a consistent light beige colour and a smooth and plain background. As a direct variation of the Moleanos limestone, there can be some fissure and shell elements but normally, they are not that visible. Moreover, it has a significant demand on the internal market, with a particular focus on the United Kingdom, United States and several Asian markets. Despite the intensive usage on interior applications, the Moleanos Fine is a very versatile limestone, thus suitable for about anything. Discover the most popular finishings for this product, as well as each finishing recommended applications.
Honed
This is probably the most standard finishing for the Moleanos Fine. The honed type presents a very uniform and matter surface, followed by a persistent light beige colour and some visible elements, mostly fossils and small dots. It also has a relatively low porosity and a considerable hardness. Although, it is recommended for almost all types of interior and exterior applications, it's frequently used on interior flooring and exterior cladding projects.
Main Features: Uniform background; matte surface; natural elements; persistent light beige colour.
Top Applications: Interior flooring and exterior cladding.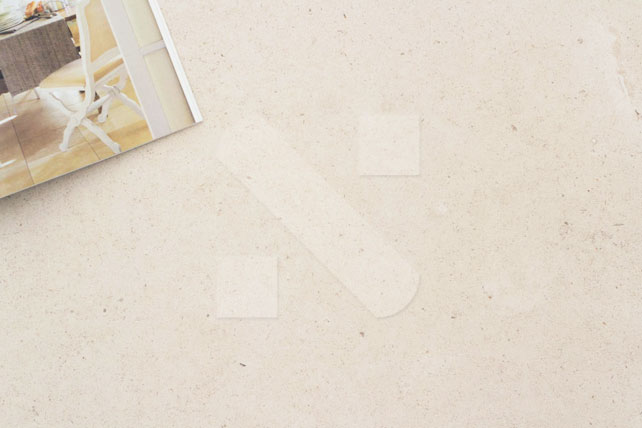 Polished
With a somewhat shiny surface, the polished finishing is frequently used on interior applications, including flooring, coverings, decoration and even bath designs. In terms of elements, this type makes them slightly more perceptible, since this technique highlights the natural properties of the stone. Also, the luster layer provides an increased durability with almost zero porosity. This is probably the only finishing that preserves the consistent beige colour of the Moleanos Fine.
Main Features: Shiny surface; increased durability; persistent beige colour.
Top Application: Interior flooring.
Sandblasted
The sandblasted technique is one of the most recommended finishings for exterior projects, especially for exterior cladding, exterior flooring and landscaping. During this process, the Moleanos Fine essence is basically lost, since the natural beige turns into a plain whitish colour. The surface is very uniform and plain, with a slightly rough texture and some anti-slippery properties. There are also no visible elements, as all the shells, fossils and dots disappear.
Main Features: Uniform and plain background; rough surface; non-slip properties; whitish colour.
Top Applications: Exterior cladding and interior flooring.
Scratched
After a literal scratch treatment, the Moleanos Fine surface becomes rough but very clean and uniform, with a parallel scratchy texture. In terms of colour, the natural beige is replaced by plain whitish tonalities. All the characteristic elements of the Moleamos limestone are lost with this technique. This is an ideal finishing for exterior cladding, since it produces an interesting and organized effect. Nonetheless, it can also be used on other exterior applications.
Main Features: Uniform and plain background; parallel scratchy surface; whitish colour.
Top Application: Exterior cladding.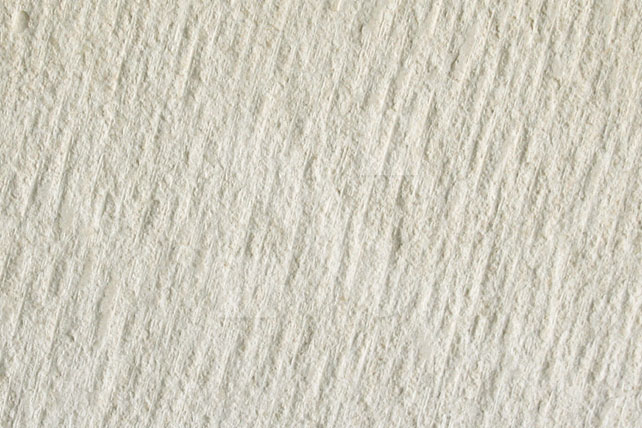 Bush-Hammered
The bush-hammered creates uniformly distributed crates of slightly different sizes. This is the most commonly used finishing for exterior applications, especially exterior cladding and wall coverings. With this procedure, the surface of the Moleanos Fine becomes extremely uniform with a rough texture and a very light whitish colour. As the previous two finishings, all the characteristic elements are nullified.
Main Features: Extremely uniform background; rough and doted surface; whitish colour.
Top Application: Exterior cladding and decoration.
Split-face
Alternative finishing for mainly exterior cladding projects. The split-face presents a very rough surface made up of stratified cuts that expose the stone bedding. This procedure displays hard and softer parts of the Moleanos Fine, since the cuts are linear and irregular, yet organized in a defined structure. In terms of structure, it is quire rough, with no visible elements and a whitish colour. This finishing is ideal for mixing with other natural stones or even different finishings.
Main Features: Irregular but organized surface; rough and lined surface; whitish colour.
Top Application: Exterior cladding.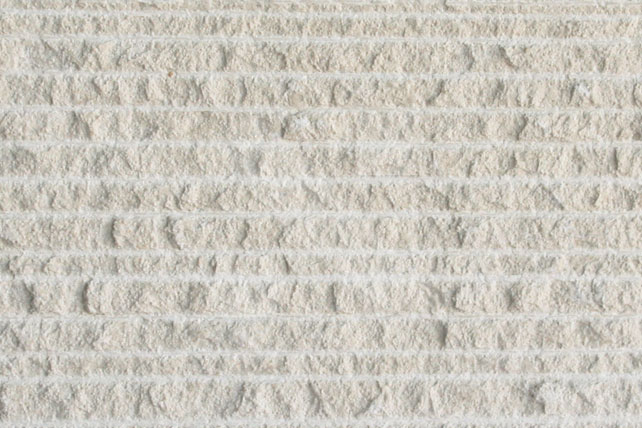 For more information about Moleanos Fine limestone, feel free to contact us or visit Moleanos.