On this article we introduce you to a beautiful type of stone: split-face stone. This is a fantastic way of re-using stone that would normally be rejected or simply with lower selection, turning it into a great looking and fairly uniform type of stone. The split-face is commonly used on exterior cladding, wall coverings or diverse decoration. We analyse on this article the process of doing split-face as well as the main materials used to do this product.
Production process
The process starts with left-over or second grade material, cut into random sizes with 2cm or 3cm thickness. These can be tiles rejected from regular production, parts of slabs and more. This material is then cut into bands with specific heights, mostly 7cm or 10cm.  Once the bands are cut with uniform height, these go to the split-face machine, which are individually operated by a person that control the process of split-facing each band to make sure that the surface finishing is done. At this point, we will have the split-face material with the final look that will present. But before packing, these bands will need to be cut to size, in order to straight the long edges to give them a free length format. Once this final cutting process is done, the split-face bands will go into crate, for later shipping.
White marble split-face
One of the most common types of stone to be used as split-face, white marble is a good choice for this type of finishing. The white marble is not 100% white, it is normally second grade selection white marble, which presents quite a grey background, vein. The final result is more like a grey / silver colour, with some hints of white. It will present some colour tone variation.
Beige marble split-face
Beige marble are also a popular choice for split-face surface, in free length bands. There are huge reserves and very large production of beige marble in Turkey and this is a obvious choice for doing split-face. What is interesting about the beige marble in split-face is that it shows little colour tone variation, where you will find the occasional vein, but not so visible. Most types of beige marble would do well with this kind of finishing, presenting a very uniform colour and surface.
Beige travertine split-face
Travertine is a great stone for doing split-face, with the Beige type as the most popular type. The Beige Travertine or Classic Travertine from Turkey will present a very uniform colour, a certain porosity and interesting colour tone. In Turkey, this is probably the most used stone with split-face finishing. There are huge reserves of Travertine in Turkey and immense production, which will naturally feed the production lines of the split-face.
Walnut travertine split-face
A less known type of Travertine from Turkey, but nonetheless a popular choice for split-face surface. The Walnut Travertine will present the same structure in split-face as other types of Travertine, but with more colour tone variation. What is particular on this case is the bluish colour, integrated with beige, greenish colour tones. It is a blend of colours, with the beige as the dominant colour.
Yellow travertine split-face
Another great choice of Travertine from Turkey to be used on split-face finishing, the Travertine Yellow will surprise you with some very interesting shades of yellow, ranging from brownish yellow to more bright or strong yellow. The colour contrast is quite interesting and adds a lot of character to the split-face Travertine Yellow. A surprisingly interesting choice.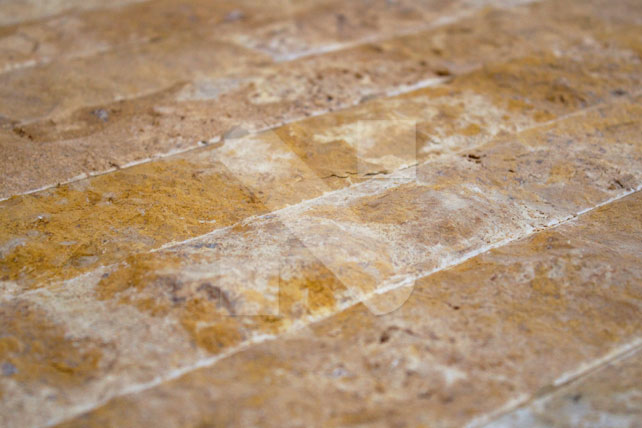 Noce travertine split-face
Finally, we have the number two type of Travertine from Turkey, which is the Travertine Noce. Despite not reaching the numbers of the Travertine Classic in terms of production, the Travertine Noce has quite some impressive output. This makes it a popular choice for split-face. What we see on the Travertine Noce split-face is the typical brown colour, fairly uniform, presenting some slight beige – orange colour tone variation. But all in all, it is a very uniform brown coloured surface, rough, but uniform. A great choice for split-face.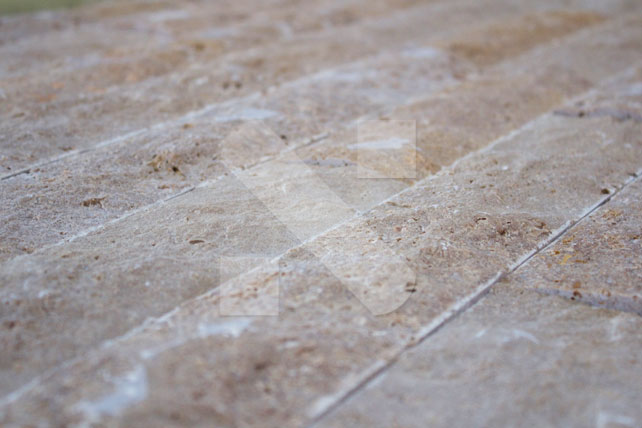 For more information about both Marble or Travertine with split-face finishing, contact us directly.