The Travertine Noce is a quite popular natural stone from Turkey, with a considerable extraction level and a growing demand. In terms of market, the Travertine Noce holds a solid positioning, mainly due to its exclusive appearance, along with its large reserves and versatile structure. This is a brown stone with a distinctive personality.
Country: Turkey   |   Colour: Brown   |   Stone Type: Travertine
Main Features: Mineral and parallel vein; natural holes
Across the years, the Travertine Noce has been developing its own reputation and market segment. Despite being similar to the Travertine Classic, the Noce variation is one of the most popular and on-demanded stones of its kind and it can be used on about all sorts of applications, from coverings to landscaping. Moreover, the Travertine Noce presents a very uniform and predictable background, with peculiar features that produce a rather exclusive look. Additionally, this is a widely available stone with a competitive price and a versatile structure.
Structure and Composition
The appearance of the Travertine Noce is quite distinctive, since it presents a medium brown colour, followed by light and dark brown spots and some calcite. But the uniqueness of this travertine stone comes mainly from its characteristics natural holes and well-defined veinage. All in all, this is a very predictable and uniform natural stone, with not so much variation. However, there is quite some difference when comparing the two main versions – cross-cut and vein-cut. The cross-cut presents a more plain and cloudy background, with large spots that might be lighter or darker in colour. On the other hand, the vein-cut version presents a richer background composed by parallel veins that run across the whole surface. The two versions are equally popular and highly demanded.
Market Presence
In the Turkish market, the Travertine Noce is a well-known natural stone with a very high demand and acceptance. However, in the international context the Travertine Noce is still growing its own segment and the demand is somewhat moderate. Nevertheless, there is a great prospective for future growth, since this is a travertine stone with large reserves at the time. Also, it detains a quite unique appearance and an incredible versatility. Therefore, it is expected that the Travertine Noce will expand and acquire further reputation in the following decades.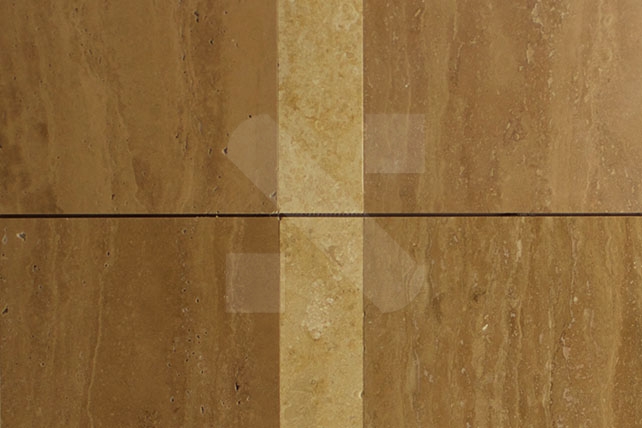 Extraction and Applications
The Travertine Noce has most of its reserves in the province of Denizli, Turkey. The number of active quarries is quite high, and most of them present large dimensions, with up to 8 layers of extraction. Additionally, this travertine is widely known for being versatile, thus suitable for a wide range of applications. But the most common application uses include cladding, coverings, flooring and landscaping.
Looking for more details on the Travertine Noce or any other natural stone? Visit our blog or contact us directly for a specialized support.